Cherith Van Sickle - Veterinary Assistant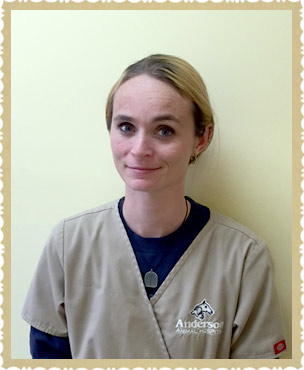 Cherith joined the Anderson Animal Hospital team in September 2015, bringing more than 15 years of experience working with animals in different capacities. A former English and Creative Writing student, she is an open-minded team player. Her responsibilities include assisting our veterinarians with patients, performing medical treatments, taking radiographs, setting up for surgery, running laboratory tests, and general animal care and husbandry.
"While this hospital is high volume, a good team helps keep things rolling and teamwork gets the job done," she says.
With a special interest in canine behavior, Cherith is the co-founder and a current trainer for Sandhill Canine Club. She has been active in canine obedience and protection sports for many years and shows, trains, and breeds American Bulldogs.
"I just like interacting with dogs - seeing how they interact with people and how people interact with them," she says. "There are so many dynamics to the canine-human bond."
Cherith has a "collection" of reptiles, a horse, and several American Bulldogs. Her "soul dog" is named Piper. When she isn't at the hospital or working with her dogs, she can most often be found reading a book.
Debbie Dunbar - Veterinary Assistant
Taking care of all the dogs and cats that come through our door is what Debbie Dunbar enjoys most about her job as veterinary assistant. "I know my job and I enjoy doing it!," she said. Debbie's responsibilities include administering food and medication, taking x-rays, performing laser treatments, and assisting the veterinarians during examinations. She joined the Anderson Animal Hospital staff in July 2006.
"The doctors here are very good at their jobs and are very helpful in explaining complicated procedures and treatments to our clients and to our staff," Debbie said. "I have learned a lot from them."
In her spare time, Debbie enjoys reading, watching tv, completing crossword puzzles, and relaxing. She has a Jack Russell terrier named Petty.
Lita Lele Richburg – Veterinary Assistant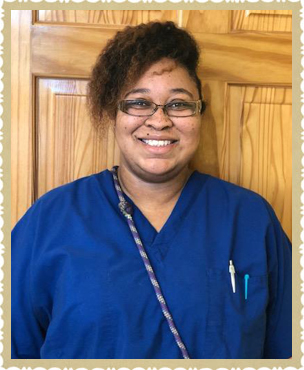 Having joined the Anderson Animal Hospital staff in December of 2016 as a Veterinary Assistant, Lita Richburg has shown to be an extraordinary asset to our team and clients. Some of her daily responsibilities include assisting our veterinarians with patient care, cleaning our work areas to keep things organized, clean, and efficient, feeding our boarding patients, and providing medications to animals in need. Her favorite area of the job is emergency medicine, as she can help pets and animals in direct need of veterinary attention.
Lita is currently enrolled in the Penn Foster curriculum and aspires to learn even more about veterinary medicine and care. When she's not at the hospital, Lita loves spending time with her two boys and going to basketball games. Lita also likes attending car and bike shows, and she loves riding her motorcycle. To pass some free-time, Lita also enjoys adult coloring. At home she owns a Great Dane named DJ, and a Dutch rabbit named Flower.
Jeannie Gainey - Receptionist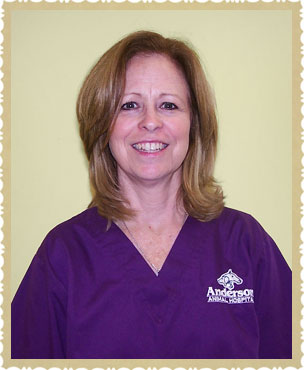 For Jeannie Gainey, learning how to care for the different pets that come to Anderson Animal Hospital is the best part of her job. As the hospital's receptionist, she is in charge of answering phone calls, scheduling appointments, and interacting with our clients. Jeannie has great compassion both for the pets and the pet owners who visit us as well as a contagious enthusiasm that makes her a joy to be around. Jeannie earned her undergraduate degree from Clemson University and joined our staff in October 2010. Along with working at the hospital, Jeannie has also worked with the Darlington County Humane Society for 15 years and currently serves as its acting president.
Jeannie has six "lovable mutts" at home and seven cats. In her free time, she helps the animal shelter with transports and rescues, plays tennis, and enjoys spending time at the beach house and "antiquing."
Janet Driggers - Receptionist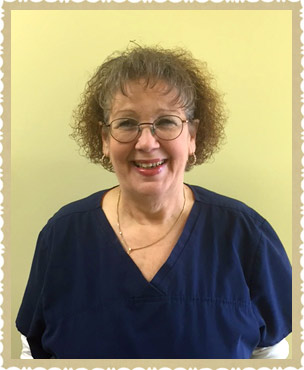 With her love of people and animals, Janet makes a great receptionist at Anderson Animal Hospital. In addition to welcoming clients and patients, she also checks them in and out, answers incoming calls, and fills prescriptions. She joined our team in November 2015.
Janet has a Parsons Jack Russell Terrier named Jack and has volunteered with an animal rescue in the past. Her personal interests center around three things: baking, crafts, and her grandchildren.
Susan Farmer - Receptionist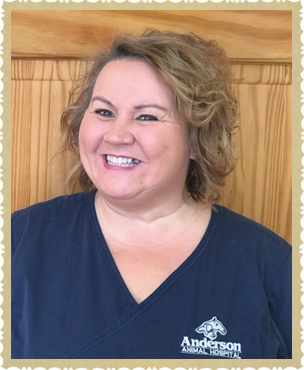 As a receptionist who joined our team in August of 2017, Susan Farmer has proven herself to be a valuable component of our highly trained staff. Checking our beloved patients and clients in and out of our hospital, answering phones, and filling prescriptions is very much a part of Susan's daily routine. The part of her job that Susan enjoys best is being able to meet new clients and their animals, and develop lasting bonds with them.
"I'm always trying to be friendly and encouraging to others!" Susan declares. "I try to have a smile on my face every day. I have learned so much since coming to Anderson. I enjoy seeing the patients leave here well, when they came in sick."
Susan owns a 12-year-old Shihtzu named BooBoo whom she loves dearly. In her free time, Susan enjoys baking, fishing, and decorating cakes.
Cindy Rodenkirchen - Receptionist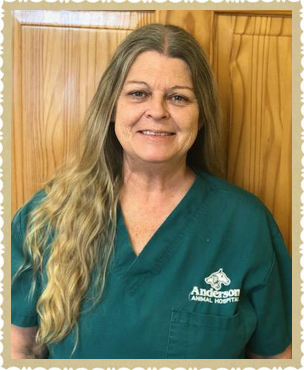 Being one of our phenomenal receptionists here at Anderson Animal Hospital, Cindy Rodenkirchen loves to greet and check in our clients and pets. She does her best to ensure everyone who comes in has a pleasant visit. Cindy is always happy to educate our clients about wellness procedures, vaccines, heartworm prevention, flea and tick control, and anything else to provide a better lifestyle for their beloved pets. A few of Cindy's unique attributes are her abilities to make sure things run smoothly and flow efficiently, as well as her contagious smile she brings with her every day.
Prior to joining our team in August of 2017, Cindy worked as a Veterinary Technician for over 15 years. We are grateful to have her knowledge and experience to share with our clients and patients. In her early years, Cindy was raised on a family farm in Virginia where she had many pets and trained Beagles and Bird dogs for hunting skills.
Cindy loves spending time with her husband, Bill. She loves being outsides and has a green thumb for gardening, as her she has an education in horticulture. Cindy enjoys fishing and cooking scrumptious meals. She considers every day a new experience for her and everyone in her life, and she enjoys taking advantage of that however she can.
Stanley James - Kennel Manager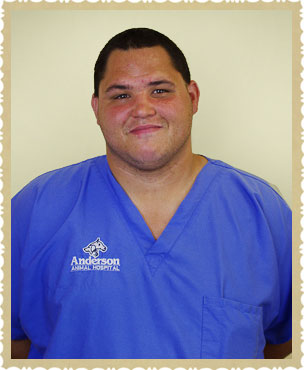 As Anderson Animal Hospital's kennel manager, Stanley James' responsibilities include bathing, grooming, and walking dogs, assisting the veterinarians, maintaining the cleanliness of the boarding and grooming area, and monitoring boarding guests during the day. Stanley thoroughly enjoys working with animals and is very hardworking, fastidious, and punctual. Stanley has been working at our hospital since June 2011.
Stanley enjoys working at Anderson Animal Hospital because "there is a friendly atmosphere here and everyone wants to help the animals," he said. At home, he enjoys spending time with his Chihuahua, Twinkle. He also likes building things, fishing, and gardening.
Lauren Swindell - Kennel Assistant & Veterinary Assistant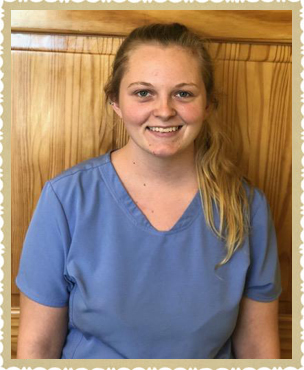 Here at Anderson Animal Hospital the amazing Lauren Swindell works full-time serving our client and patient needs both as a Kennel Assistant and a Veterinary Assistant. Some of Lauren's daily responsibilities include walking, cleaning and bathing, drawing shots, assisting doctors with our patients. Before joining our team in May of 2018, Lauren worked for Mingo Creek Farms and Florence Horse Center. The aspect of her position Lauren loves the most is being able to make the animals that come into our facility feel comfortable and safe.
"All of my coworkers are always kind," Lauren says. "They are always helpful and willing to teach me what I want to learn" Lauren feels it is a great environment with many wonderful patients and clients to work with.
While at home, Lauren enjoys running and going mudding in her jeep. She also loves to play with her 3 cats, a black and white tabby named Sugar, a Tortoieshell/Maine Coon named Minnie, and a tabby cat named Emma. Lauren loves to spend time with family and aspires to travel whenever she can. She is currently enrolled in Florence Darling Tech College and is studying in the field of science.