Cherith Van Sickle - Veterinary Assistant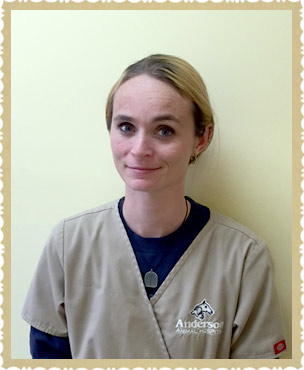 Cherith joined the Anderson Animal Hospital team in September 2015, bringing more than 15 years of experience working with animals in different capacities. A former English and Creative Writing student, she is an open-minded team player. Her responsibilities include assisting our veterinarians with patients, performing medical treatments, taking radiographs, setting up for surgery, running laboratory tests, and general animal care and husbandry.
"While this hospital is high volume, a good team helps keep things rolling and teamwork gets the job done," she says.
With a special interest in canine behavior, Cherith is the co-founder and a current trainer for Sandhill Canine Club. She has been active in canine obedience and protection sports for many years and shows, trains, and breeds American Bulldogs.
"I just like interacting with dogs - seeing how they interact with people and how people interact with them," she says. "There are so many dynamics to the canine-human bond."
Cherith has a "collection" of reptiles, a horse, and several American Bulldogs. Her "soul dog" is named Piper. When she isn't at the hospital or working with her dogs, she can most often be found reading a book.
Debbie Dunbar - Veterinary Assistant
Taking care of all the dogs and cats that come through our door is what Debbie Dunbar enjoys most about her job as veterinary assistant. "I know my job and I enjoy doing it!," she said. Debbie's responsibilities include administering food and medication, taking x-rays, performing laser treatments, and assisting the veterinarians during examinations. She joined the Anderson Animal Hospital staff in July 2006.
"The doctors here are very good at their jobs and are very helpful in explaining complicated procedures and treatments to our clients and to our staff," Debbie said. "I have learned a lot from them."
In her spare time, Debbie enjoys reading, watching tv, completing crossword puzzles, and relaxing. She has a Jack Russell terrier named Petty.
Lita Lele Richburg – Veterinary Assistant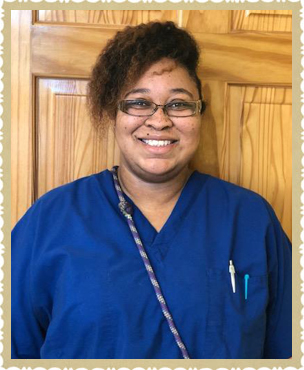 Having joined the Anderson Animal Hospital staff in December of 2016 as a Veterinary Assistant, Lita Richburg has shown to be an extraordinary asset to our team and clients. Some of her daily responsibilities include assisting our veterinarians with patient care, cleaning our work areas to keep things organized, clean, and efficient, feeding our boarding patients, and providing medications to animals in need. Her favorite area of the job is emergency medicine, as she can help pets and animals in direct need of veterinary attention.
Lita is currently enrolled in the Penn Foster curriculum and aspires to learn even more about veterinary medicine and care. When she's not at the hospital, Lita loves spending time with her two boys and going to basketball games. Lita also likes attending car and bike shows, and she loves riding her motorcycle. To pass some free-time, Lita also enjoys adult coloring. At home she owns a Great Dane named DJ, and a Dutch rabbit named Flower.
Jeannie Gainey - Receptionist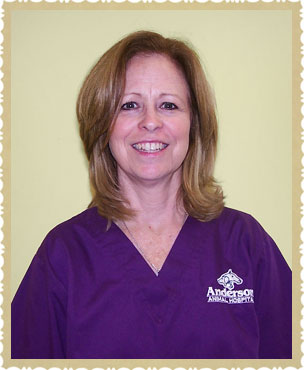 For Jeannie Gainey, learning how to care for the different pets that come to Anderson Animal Hospital is the best part of her job. As the hospital's receptionist, she is in charge of answering phone calls, scheduling appointments, and interacting with our clients. Jeannie has great compassion both for the pets and the pet owners who visit us as well as a contagious enthusiasm that makes her a joy to be around. Jeannie earned her undergraduate degree from Clemson University and joined our staff in October 2010. Along with working at the hospital, Jeannie has also worked with the Darlington County Humane Society for 15 years and currently serves as its acting president.
Jeannie has six "lovable mutts" at home and seven cats. In her free time, she helps the animal shelter with transports and rescues, plays tennis, and enjoys spending time at the beach house and "antiquing."
EJ Campbell - Office Manager
It takes a village to help our office run smoothly! EJ Campbell is an essential member of our team who manages inventory and personnel, as well as oversees scheduling appointments. As our full-time Office Manager, EJ is constantly interacting with clients and staff to provide a positive attitude and dedication to providing excellent veterinary care! He truly helps foster great relationships with our community by going above and beyond to help our clients.
EJ has a BA in Mass Communication and a MA in Public Relations from Rowan University. He also has five years of experience serving the veterinary community both working professionally and through volunteering. EJ was a Manager at Bridge Facility Darlington County Humane Society from 2015-2016, a Receptionist here at Anderson Animal Hospital from 2016-2017, and he has been volunteering at shelters since he was six years old.
When asked about why he loves working at AAH, EJ says "We are a family. We work together and it creates a wonderful synergy where we can make each other laugh, even through the difficult times."
A true lover of all animals, EJ has five dogs of his own at home. Liffey (5 y/o Labrabull), Caoimhe (3 y/o Labrabull), Seamus (4 y/o Border Collie), Bumbo (7 y/o Pitbull), and Clancy (14 week old Rottie) all help keep his home full of love! In his free time, EJ loves to play Irish music! He plays the guitar, mandolin, and tin whistle! He also enjoys building furniture, scuba diving, traveling, and going to breweries.
Ashley Ralley - Veterinary Assistant
Bio coming soon!
Victoria Rogers - Receptionist
Victoria Rogers joined the Anderson Animal Hospital family part-time in 2019. She is one of our wonderful Receptionists who helps to answer phones, schedule appointments, and greet our clients when they come in for a visit. She is currently enrolled at Francis Marion University and has two years experience working in the veterinary care field. Before joining our team, Victoria worked at the Bishopville Animal Clinic from 2017-2018.
When asked what her favorite part of working at Anderson Animal Hospital was, Victoria said she loves to get to know clients and help provide exceptional care to their pets! She loves to learn new things and enjoys meeting the wonderful people that visit our facility.
At home, Victoria has two dogs of her very own! Malachai is a 3-year-old German Shepherd and Snowflake is a 14-year-old Pomeranian! Victoria likes to spend her free time hiking, painting, swimming, and playing the piano.
Desiree Jones - Kennel Technician
The team at Anderson Animal Hospital would like to introduce Desiree Jones! She is a full-time Kennel Assistant here at our facility, and she helps keep our clients safe and comfortable! Desiree cleans the kennels, grooms the dogs, feeds the animals, and maintains the yard. She especially loves grooming the pups because it helps them feel relaxed and calm. Before joining our team in October 2019, Desiree gained four years of experience volunteering at SNIP from June 2014- December 2016. She also volunteered at Windsor from December 2016-February 2018. Desiree also has a Bachelor of Science degree in Biology. We love Desiree's curiosity to learn new things and willingness to grow in the veterinary field! Her excellent observation skills and effectiveness in caring for our clients helps us provide exceptional care to all animals who need it. In her free time, Desiree likes to spend time with her 12-year-old Jack Russel Terrier named Buddy! She also likes to draw, read, write, craft, go antiquing, take road trips, and sing. Welcome Desiree to the Anderson Animal Hospital family!
Raya Nixon - Veterinary Assistant
Raya Nixon is one of our wonderful Veterinary Assistants who help provide quality care to all of our patients! She is primarily responsible for monitoring patients, assisting Veterinarians and Technicians with lab work and restraints, and comforting pets during examinations. Raya helps to calm animals during their exams and helps them feel safe in their new environment. Raya is truly someone you can depend on for help because she is trustworthy, responsible, and always willing to provide assistance. Raya is a Certified Veterinary Assistant and has an Associate's degree from Central Carolina. Before joining our team in March of 2020, Raya volunteered at a local Vet Hospital and a Groomer. When asked what she likes about working at Anderson Animal Hospital, Raya said she really appreciated how the staff truly value's pet owner's input as well as putting the pet's health first. Every animal that comes to our facility seeking care is given the absolute best veterinary care possible. Raya is a member of the South Carolina Beekeepers Association, and will hopefully have a beehive of her own at home! She has several pets including a Doberman, a Pitbull, a cat, an opossum, 2 chickens "the peepers", and a Tarantula spider. She loves spending time outdoors, hiking with her dogs in the woods or in the mountains, and helping her fiancée work on cars in the garage. We are so happy to have Raya on our staff because she truly helps us provide the best veterinary service in the area! Welcome, Raya!
Cynthia Silva - Veterinary Technician
Cynthia Sylva is a full-time Licensed Veterinary Technician here at Anderson Animal Hospital! She is responsible for running bloodwork, monitoring during surgeries, and taking radiographs. Cynthia says she loves getting to see animals make a full recovery, and she enjoys working with such a dedicated team of veterinary care specialists. We appreciate Cynthia for everything she adds to our office, including her kind nature and her bilingual skills! Before joining our team in October of 2018, Cynthia worked for two years as a Veterinary Assistant and Kennel Assistant. She also has a BA in Biology with a concentration in Veterinary Technology from Piedmont Technical College. Cynthia truly has a passion and commitment to quality veterinary care, and our patients are lucky to have her! In her free time, Cynthia enjoys cooking and spending time with her pets. She has two guinea pigs named Choncha and Snowflake, as well as two dogs named Rippa (Chihuahua mix) and Trevor (Pit mix). We are so lucky to have such a talented and caring individual like Cynthia on our staff!