Veterinary Services for Equines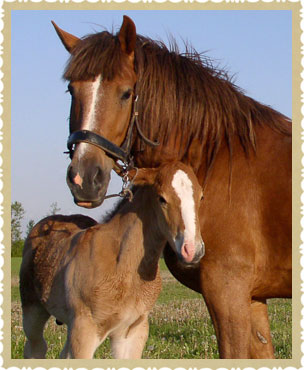 At Anderson Animal Hospital, we offer care for your equine family members as well as for your dogs and cats. We provide a range of services to breeders, stables, and those who keep horses at their home, commonly referred to as backyard horses. While most of our equine patients are quarter horses, we also see a fair number of grade horses that are commonly owned for pleasure riding and gaming, such as barrel racing. Thus, we have considerable experience treating a number of equine breeds. Our entire veterinary staff believes strongly in educating our clients in preventive medicine and techniques so that your beloved horse can live a long and healthy life.
To best care for your horse, our Hartsville, SC hospital maintains a separate fenced examination area, which includes an indoor built-in treatment stock as well as two box stalls and a grassy outdoor area for lameness exams. Our facility was constructed so that we can safely evaluate and treat your horse and, if needed, we can keep him/her for further care and hospitalization indoors. Being able to offer quality equine services to area farms and families means that we are living up to our desire to be a complete veterinary practice.
Equine Vaccinations
Preventive medicine is one of the most important things you can do to help reduce the chance of your horse getting sick. Here in Hartsville, SC, we are not immune to a number of dangerous diseases that can be devastating to horses. These diseases are also highly infectious by nature and could pose a very real risk to the health of individual animals as well as herds.
However, there are a number of vaccines that have proved to be very effective at preventing many equine diseases. Anderson Animal Hospital is well versed in the nature and application of these vaccines and has developed an equine vaccination protocol designed to meet the needs of horses at every stage of life.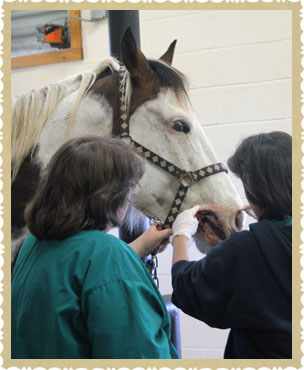 Anderson Animal Hospital's Equine Vaccination Protocol
We like to start our vaccine protocols at 4-6 months of age for foals and weanlings depending on the vaccination status of the mare.
Core equine vaccines:

Rabies
EEE/WEE
West Nile virus
Tetanus

Non-core equine vaccines:
We recommend twice yearly vaccinations (usually in the spring and the fall) to help protect your horse from contracting life threatening or debilitating diseases.
During your horse's vaccinations, he/she will also receive a thorough physical examination, including an evaluation of the eyes, teeth, heart, lungs, skin, and musculature.
Our physical examinations allow us to help detect problems for your animal that may become more serious if left unnoticed or untreated.
Diagnosis and Treatment of Equine Medical Conditions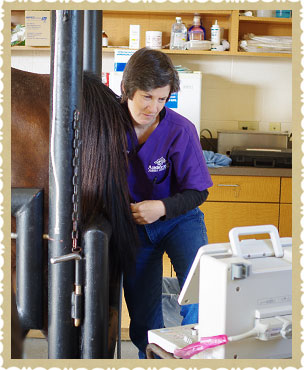 Though we prefer to prevent illness as much as we possibly can, there simply is no guarantee that a well-cared for equine will never face a periodic illness or injury. Anderson Animal Hospital of Hartsville, SC is experienced and able to diagnose and treat a wide range of medical conditions.
These include, but certainly are not limited to:
Coggins testing for Equine Infectious Anemia
Colic
Lacerations
Metabolic disorders
Coughing
Dystocia (abnormal or difficult birth of a foal)
Choke in horses
Laminitis/founder
Respiratory infections
Diarrhea
Dental care
Wound management
Eye injuries
Our full Idexx laboratory allows us to perform blood tests and fecal
examinations on your horse in minutes so the most accurate treatments
and recommendations can be made for your equine friend.
Anderson Animal Hospital offers other equine services including floating teeth, ultrasound, digital x-rays of the legs and head, reproductive services including artificial insemination, surgery (lacerations, castrations), upper airway endoscopic examinations, and end-of-life planning.
Recognizing Colic
A major problem for you as a horse owner is identifying the signs of colic. This is because signs can vary greatly between individual horses and may also depend on the severity of the pain. Common signs of colic are:
Turning the head toward the flank
Pawing
Kicking or biting at the abdomen
Repeatedly lying down and getting up or attempting to do so
Rolling, especially violent rolling
Stretching out as if to urinate without doing so
Time is the most critical factor if colic is to be successfully treated. If you suspect your horse is suffering from colic, remove all food and water immediately and notify Anderson Animal Hospital. We will ask you for specific information regarding your horse including his pulse rate, respiratory rate, and overall behavioral signs.
Do not administer any drugs unless specifically directed to do so by one of our staff veterinarians. Drugs may camouflage problems and interfere with accurate diagnosis.
Hazards of Equine Obesity
Horses, like other pets, can be over fed and become obese. Excess weight and over-nutrition have negative effects on horses, including:
Increased stress on the heart and lungs
Greater risk of laminitis or founder
Increased risk of developmental orthopedic problems in young, growing horses
More strain on feet, joints, and limbs
Worsened symptoms of arthritis
Less efficient cooling of body temperatures
Fat build-up around key organs which interferes with normal function
Reduced reproductive efficiency
Greater lethargy and more easily fatigued
Dr. Anderson and all the veterinarians at Anderson Animal Hospital are available to answer any questions you may have regarding nutrition and dietary guidelines for your equine pet.
Equine Dentistry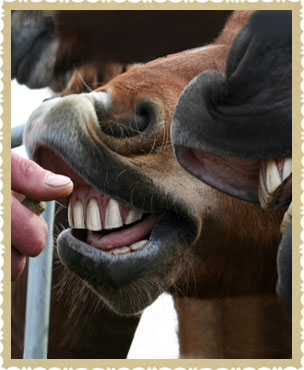 Horses and related equines often require some dentistry in order to keep their teeth and gums healthy, which in turn go a long way toward ensuring they are able to eat properly and maintain good nutritional health. Anderson Animal Hospital is able to perform a range of dental services on equines, which includes teeth floating, extractions, and balance work on incisors and molars. We use both hand and power floating techniques.
Not only will these services prevent painful and uncomfortable tooth and oral conditions from developing, but they are important to ensuring your horse is able to properly chew and digest his or her food.
Equine Reproductive Health
Breeding horses is one of the most interesting and compelling enterprises an owner of horses can undertake. It is important to farmers seeking to broaden and maintain their herd and it is an important endeavor for those seeking to give birth to the next great race or show horse.
Anderson Animal Hospital in Hartsville is able to offer guidance on breeding and maintaining the health of the mare or dam during pregnancy and delivery. We also offer reproductive ultrasounds during important stages of pregnancy as well as artificial insemination to ensure the best chance of conception.
Stem Cell Therapy
Stem cell therapy is used for treatment of our equine patients with tendon and ligament injuries.
Stem cells have the unique ability to mature into cells with specialized functions and makes them extremely valuable for repairing certain body tissues damaged by injury or disease. We can use these cells as an effective therapy for the treatment of arthritis.
Equine Surgical Services
As with the medical care we provide equines, we prefer to do all that we can to help prevent the need for surgery. To this end, we will offer advice on how to properly keep horses as well as observe conditions where horses and equines are kept and offer suggestions to ensure their health and safety.
However, there are times where surgery is in the best interest of your equine.
Surgeries we perform include:
Castrations
Laceration repair
Mass removals
Hernia repair
Farm Calls
We are also available to you for those unexpected events that happen at all hours of the day or night. Our well-equipped mobile veterinary unit allows us to make farm calls to your home if you live within our service area and/or if you are unable to trailer your horse to us. If you would like to find out more information about how we care for our equine community or to make an appointment, please call us at (843) 332-3011.
Equine Euthanasia & Saying Goodbye
We offer at-home euthanasia for your equine family member on a case-by-case basis.
Euthanasia and tending to your pet's remains are two of the most difficult issues for many people to consider. Asking the question means confronting fear, guilt, and grief. Euthanasia methods are designed to cause minimal pain and distress. Talk to us about euthanasia long before it becomes an issue. Find out about your options, make some key decisions ahead of time, and ask us to add this information to your pet's record.
Taking the time to plan, as challenging as it may be, will lessen the pain and discomfort for you and your pet in the event this option ever has to be considered. All of us at Anderson Animal Hospital will help you prepare for these important issues with the compassion and sensitivity they require.