Hartsville Boarding for Dogs and Cats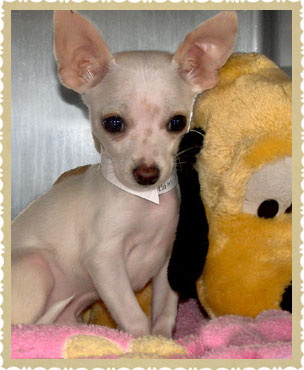 When traveling for business or taking your family on vacation, there is enough stress without having to worry about who is going to take care of your beloved companion. This is especially true if your pet has a chronic or acute medical condition that requires a caregiver with veterinary knowledge and experience.
Rather than impose on a neighbor or rely on a pet sitter with little animal care training, Anderson Animal Hospital offers veterinary-supervised boarding for pets with medical needs. For example, if your dog is epileptic or your cat has diabetes, we are able to offer your pet safe and comfortable boarding as well as any necessary medical care. Your pet's special health needs, such as medicine administration, food preparation, and exercise requirements will all be reviewed with you. We provide Nutreena, Hill's, and Science Diet pet food but you are welcome to bring your own food if your pet is on a special diet.
We offer an outside fenced exercise area for our canine guests, temperature controlled indoor kennels, and at least three walks daily with one of our staff members. Personal toys and blankets may be brought from home in order to make your pet feel more comfortable.
Required Vaccinations
We require that all boarding dogs and cats be current on the following vaccinations:
Dogs:
Rabies
Distemper Combination vaccine
Bordetella
Cats:
*If your cat tests positive for FeLV/FIV, he or she must stay in an isolated kennel at a higher boarding rate.
*No exam is required if record of a physical exam performed within the past 12 months is provided.
If your pet has been vaccinated at another facility, we must have a copy of the current vaccination record in our file prior to check-in day or your pet will not be allowed to board. It is your responsibility to make sure your veterinarian has faxed this record to us and that we have received it.
Please note that we do not verify or administer overdue vaccinations on check-in day.
In order to protect the well-being of the pets in our care, we reserve the right to refuse any pet for boarding that may have a contagious illness or other problems.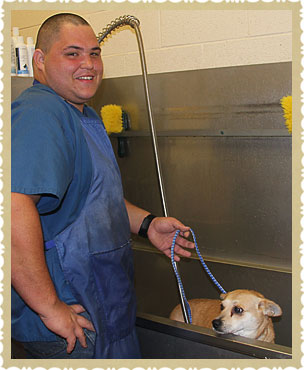 Drop-Off/Pick Up
You may drop off your pet as early as 7:30 a.m. Monday through Saturday. If an examination or procedure was performed on your pet during its stay, please pick him or her up during the veterinarian's hospital hours so that we can discuss the treatment and results with you.
Reservations are highly recommended for holidays and during the summer months.
Grooming for Dogs and Cats
Grooming is more than just a bit of pet pampering; it is an important step in keeping your pet happy and healthy by preventing disease. For example, regular baths and nail trims help remove harmful germs from the fur and paws that are picked up as your dog plays outside and provides a great opportunity for the groomer to notice dried or cracked paw pads or skin issues.
From seeing so many happy dogs and cats walk out of our grooming area, we know that a good bath and brush makes your pet feel great and adds to his or her well-being. Please call today to set up an appointment to have your pet groomed at Anderson Animal Hospital. If you would like to schedule an examination at the same time, please ask about our discounted examination fees.