Our Hartsville Veterinarians
Dr. Kathryn R. Anderson, DVM - Owner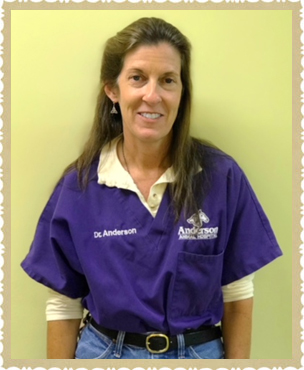 Growing up in Timmonsville, SC on a row crop and hog farm, Dr. Kathryn Anderson had many opportunities to interact with various animals. When she was 5 years old, she received her first horse and from then on she "was hooked."
"My cousins from neighboring farms and I were always spending time near the horses so our parents never worried," she said. "We were always very easy to find!" Dr. Anderson believes that her experience growing up around these animals taught her valuable lessons in responsibility—lessons that served her well through veterinary school and continue to be valuable today.
Dr. Anderson earned her bachelor's degree in zoology from Clemson University in 1985 and then pursued her Doctorate of Veterinary Medicine at the University of Georgia College of Veterinary Medicine where she graduated in 1989. During her veterinary studies, Dr. Anderson was the recipient of a Hill's Scholarship and participated in the local chapter of the American Association of Feline Practitioners as the charter secretary. She is a member of the South Carolina Association of Veterinarians, the American Veterinary Medical Association, the American Association of Equine Practitioners, the South Carolina Dressage and Combined Training Association, the United States Dressage Federation, the United States Equestrian Federation, the American Hanoverian Society, and the KWPN of North America. Her professional interests include internal medicine, emergency medicine, equine reproduction, and shelter medicine.
Following her grandmother's advice to always "stick to her guns," Dr. Anderson opened the Anderson Animal Hospital in 2002. Starting her own practice was a leap of faith but, Dr. Anderson noted, "it turned out well." To her, the most satisfying aspect of her career is "being able to take knowledge and apply it to each individual situation in a different way. No two situations are ever the same in veterinary medicine and the job requires constant adapting and improvising in order to achieve a favorable outcome," she said. "Every day brings a new challenge and teaches me new lessons in human and animal nature."
As an avid dressage competitor, Dr. Anderson has successfully competed at the regional level and, in 2012, was named fifth in the nation for her level in KWPN's registry with her mare, Tineke. In her spare time, she enjoys water skiing, boating, cleaning horse stalls, cutting grass, and participating in most outdoor activities that involve warm weather and exercise. She admits to also watching football and reading a good book by the fireplace—usually with a cat in her lap.
She shares her home with her husband, William, and their four dogs, four cats, and eight horses. Dr. Anderson is an active member of First Baptist Church in Harstville and their "awesome ladies Sunday School class." She also serves as a veterinary advisor to the local humane society in Hartsville.
Dr. Danielle Petker, DVM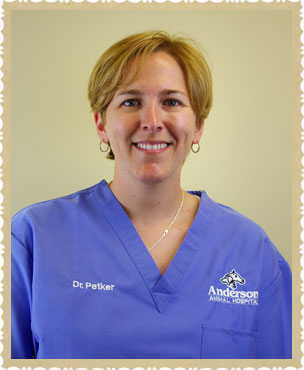 Choosing a career that wouldn't feel too much like work was important to Dr. Danielle Petker. "My parents always encouraged me to pursue a career where I would be happy doing the tasks I had to do every day," she said. "I have always loved animals my entire life so veterinary medicine was an obvious and correct career choice for me."
Dr. Petker grew up in Kissimmee, Florida and Port Austin, Michigan. She attended Cumberland College where she earned her bachelor's degree in biology in 2000 and then went on to pursue her veterinary studies at Purdue University College of Veterinary Medicine. She received her Doctorate of Veterinary Medicine in 2005.
"Knowing that I have the ability to help prevent diseases in pets is what I find most satisfying about being a veterinarian," Dr. Petker said. "I also find it very rewarding to watch a very sick or injured pet's progression from a poor health status to an improved state of well-being. And, of course, I like to see the impact on an owner when he or she receives a pet back in a healthy, happy condition." Dr. Petker is a member of the American Veterinary Medical Association and the South Carolina Association of Veterinarians. Her professional interests include surgery and ultrasound.
One of Dr. Petker's most memorable professional experiences thus far was treating a Yorkshire terrier that had been attacked by some larger dogs. The Yorkie had multiple hernias and needed extensive surgery but the successful outcome still remains in her memory today. "He pulled through and made his parents, our clients, very happy when they got him back in much better shape," she said. "And he is still a happy patient when he comes to visit!"
In her spare time, Dr. Petker likes golf, yard work, travel, music, and concerts. She happily shares her life with two horses, two dogs, and two cats.
Dr. Laura P. Grady, DVM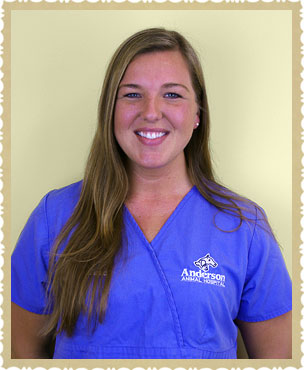 Dr. Laura Grady joined the Anderson Animal Hospital team in June 2011. Her love of animals began while growing up with her old Icelandic horse, Paulie. He was a patient recipient of the haircuts and spontaneous hugs she bestowed and endured hours of log jumping. Those fond memories remain with Dr. Grady even now as she practices veterinary medicine.
Originally from Greeleyville, SC, Dr. Grady credits her family's positive support and encouragement with guiding her into a career in veterinary medicine. As an undergraduate student at Clemson University, Dr. Grady studied animal science and followed a pre-veterinary course of studies. She graduated with her bachelor's degree in 2007 and went on to St. Matthew's University, School of Veterinary Medicine where she earned her Doctorate of Veterinary Medicine in 2011. Dr. Grady is a member of the American Veterinary Medical Association and the South Carolina Association of Veterinarians. Her professional interests include equine preventative medicine, internal medicine, and equine ambulatory medicine.
"One of the most satisfying aspects of being a veterinarian is the rewarding feeling you receive when you are able to treat a pet and thus make not only the animal, but also the owner, feel better as well," she said. "It's a good feeling to rely on a strong knowledge base to make and apply decisions toward a treatment plan that works well for everyone."
At home, Dr. Grady and her husband Travis enjoy the company of their quarter horses, Honey, Tuff and Cheyenne; their Australian shepherd, Belle; and their German Shorthair Pointer mix, Hayes. Dr. Grady enjoys spending time outdoors (especially on the water), horseback riding, spending time with her family and friends, and watching the Clemson Tigers play football.
Dr. Susanna Leigh Oliver, DVM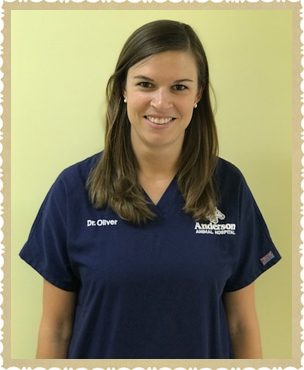 Since joining the Anderson Animal Hospital team in late August of 2017, Dr. Susanna Oliver has been hard at work ensuring that the animals we treat are in better condition once they leave compared to when they enter our facility. Dr. Oliver is a member of the American Veterinary Medical Association, as well as the South Carolina Association of Veterinarians. Her professional interests include veterinary surgery, orthopedics, ophthalmology, and internal medicine.
"When I do surgery on animals that are sick or injured it is very rewarding to see the difference almost instantly after removing the foreign body, or stitching a laceration, etc." Dr. Oliver declares. "My first few months out of veterinary school I saw my first blocked cat. His bloodwork showed the worst kidney values I've seen, even now 3 ½ years later. We didn't think he would make it, but I unblocked him and started IV fluids and the next day his kidney values were normal, unbelievably."
After graduating high school in Charlotte, North Carolina, Dr. Oliver sought to obtain a degree in Animal and Veterinary Sciences from Clemson University. While pursuing her undergraduate education, Susanna found enjoyment representing the Clemson University Equestrian Team as the Vice President of the organization. Upon graduating Summa Cum Laude as a member of the Calhoun Honors College in 2010, Dr. Oliver went on to further her education by achieving a doctorate in veterinary medicine from North Carolina State University. There, she was in the Phi Zeta honor society, graduating in 2014.
While she is away from Anderson Animal Hospital, Dr. Oliver enjoys looking after her beloved pets and spending time with her loving husband, Ryan. They share their home with a 12-year-old flat coated retriever mix named Molly, a 3-year-old chocolate lab named Owen, a pygmy goat named Merle, and a cat named Riley. Dr. Oliver also enjoys football, water sports, boating, and being outdoors.